Portal with AdequateEmily
3 months ago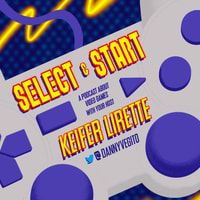 Filmmaker and YouTube creator AdequateEmily stops by to talk about why Portal is her favorite game of all time! We also talk about being suspended on Twitter, making our dads violently ill through video games, prejudice in video games, licensed games, and more!
Other games discussed in the episode include: The Half-Life series, Team Fortress 2, Portal 2, the Persona series, Nickelodeon video games, The Godfather, Scarface, The Warriors, and more! Select and Start is a video game podcast where the host, Keifer Lirette, interviews his guests about their most meaningful and memorable video game experiences.
Support AdequateEmily: https://www.youtube.com/channel/UCOH1FQCrI3EdO3gBjnH0Yxg https://twitter.com/ImprisonedEmily 
Follow Keifer and support the show: https://linktr.ee/KeiferL https://www.patreon.com/KeifersCorner
Artwork provided by Avry Ott: https://linktr.ee/HotSodaDesigns
Theme music provided by Mike Pettry: https://linktr.ee/mikepettry 
Find out more at https://select-and-start.pinecast.co
Send us your feedback online: https://pinecast.com/feedback/select-and-start/fc6fbf21-0151-45f9-8d78-9be7b7542988
This podcast is powered by Pinecast.