The Legend of Zelda: The Wind Waker with Hamish Steele
6 months ago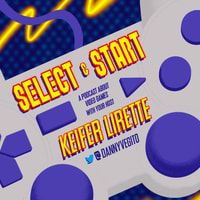 Ahoy! Eisner award-winner Hamish Steele, creator of the webcomic Deadendia as well as its Netflix adaptation Dead End: Paranormal Park, stops by to talk about The Legend of Zelda: The Wind Waker and why it means so much to them!
We also talk about other video games important to Hamish, such as Persona 5 and Earthbound, get into our opinions on the Zelda series as a whole, gauge our hype levels for Tears of the Kingdom, and more!
Other games discussed in this episode: Chrono Trigger, Super Mario RPG, the Mega Man series, the Final Fantasy series, Paper Mario, Okami, Tunic, Tchia, and more!
Select and Start is a video game podcast where the host, Keifer Lirette, talks with his guests about their most meaningful and memorable video game experiences.
Follow Hamish and support their projects: https://linktr.ee/hamishsteele
Follow Keifer and support the show: https://www.patreon.com/KeifersCorner https://linktr.ee/KeiferL
Artwork provided by Avry Ott: https://linktr.ee/HotSodaDesigns
Send us your feedback online: https://pinecast.com/feedback/select-and-start/f6d0c168-6a3a-4507-be82-6de922135cdd
This podcast is powered by Pinecast.