Outer Wilds with Jay from Additional Postage Required
4 months ago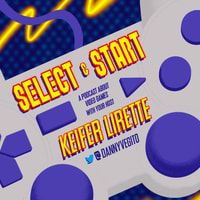 Happy Indie-pendence Day gamers! Moonshot Network's own Jay (creator of Additional Postage Required and co-host of Champs in the Making) stops by to talk about the indie time loop exploration game "Outer Wilds" and why it means so much to them! They also talk about Pokémon, how it got them into video games, and more!  
Other topics covered in this episode: games journalism, Indie games, time loop stories, and The Legend of Zelda: Majora's Mask.
Select and Start is a video game podcast where the host, Keifer Lirette, talks with his guests about their most meaningful and memorable video game experiences. It is supported by the Moonshot Network.
Follow Jay and support their projects: https://jmpetrequin.carrd.co/ 
Follow Keifer and support the show: New Twitter: @KeiferReloaded https://linktr.ee/KeiferL
Artwork provided by Avry Ott: https://linktr.ee/HotSodaDesigns
Find out more at https://select-and-start.pinecast.co
Send us your feedback online: https://pinecast.com/feedback/select-and-start/c768e826-4cdb-49a5-a322-77086629c914
This podcast is powered by Pinecast.