Inscryption with Andrew Sherman
1 month ago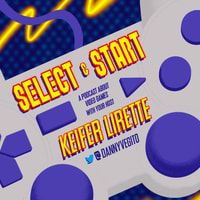 Happy Halloween, super ghouls 'n gamers! Andrew Sherman, head of the Moonshot Podcast Network and host of ARGonauts and The Podcast Mines: There But For the Grace of Pod Go We, stops by to talk about the roguelike deck-building game Inscryption and the impact it made on his life! 
Also, Keifer got Covid and he's _pissed. _
We also talk about our history with card games and deck-builders, Nintendo DS modding and repair, the best games to play during the Fall season, and more!  
Other games discussed in this episode: The Pokémon franchise, the Yu-Gi-Oh franchise, Phoenix Wright: Ace Attorney, Hotel Dusk, Baldur's Gate III, Psychonauts, Night in the Woods, Alan Wake 2, Loop Hero, Wildermyth, Slay The Spire, Into the Breach, Immortality, Metal Gear Solid 2, and more!
Timestamps: 00:00 - Keifer's Rant 06:50 - Introducing Andrew 41:38 - Trading Card Games 54:45 - Autumn Games 1:01:45 - Introducing Inscryption 1:20:00 - No Country for Old Games 1:29:30 - Inscryption 2:37:15 - Recommendations and Conclusion
Select and Start is a video game podcast where the host, Keifer Lirette, talks with his guests about their most meaningful and memorable video game experiences. It is part of the Moonshot podcast network.
Support Andrew and his projects: https://www.twitch.tv/ACSherman https://andrewsherman.carrd.co/
Follow Keifer and support the show: https://www.patreon.com/KeifersCorner https://linktr.ee/KeiferL
Artwork provided by Avry Ott: https://linktr.ee/HotSodaDesigns
Theme Music Provided by Mike Pettry: https://linktr.ee/mikepettry
Find out more at https://select-and-start.pinecast.co
Send us your feedback online: https://pinecast.com/feedback/select-and-start/b747cf42-203b-4e26-b6ce-5ffceef209b7
This podcast is powered by Pinecast.