The Warriors with Roman Fruehan
3 months ago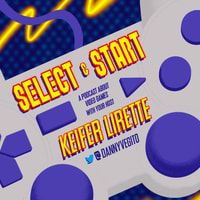 Can you dig it? Filmmaker and close friend Roman Fruehan comes out to play AND discuss the Rockstar's 2005 beat-em-up, The Warriors. We talk about the game AND the 1979 Walter Hill film it's based on and why they both mean so much to Roman and how they changed his life.
We also talk movies, video game adaptations of films, make Roman rank them in yet another segment of Rank and Cinephile, and talk about Roman's biggest gaming blind spots.
Other games discussed in this episode: The Bouncer, Bomberman Fantasy Race, Crash Bandicoot and Spyro, Eternal Darkness, Incredible Crisis, the Metal Gear Solid franchise, Teenage Mutant Ninja Turtles: Shredder's Revenge, Double Dragon, Jet Set Radio, the Yakuza franchise, and more!
Select and Start is a video game podcast where the host, Keifer Lirette, talks with his guests about their most meaningful and memorable video game experiences.
Support Roman: https://www.instagram.com/revolverroman/
Follow Keifer and support the show: https://linktr.ee/KeiferL https://www.patreon.com/KeifersCorner
Artwork provided by Avry Ott: https://linktr.ee/HotSodaDesigns
Theme Music Provided by Mike Pettry: https://linktr.ee/mikepettry
Find out more at https://select-and-start.pinecast.co
Send us your feedback online: https://pinecast.com/feedback/select-and-start/a22d89d5-e77d-46ff-90be-38c9e80c572b
This podcast is powered by Pinecast.