Final Fantasy VII with Mike Pettry
2 months ago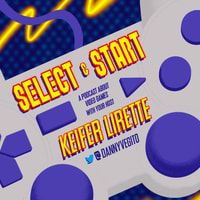 Mike Pettry, a musician and composer for TV, video games, theatre, and this podcast, comes on the show to talk about the groundbreaking Final Fantasy VII and the meteor-sized impact it made on his life!
We also talk about video game music, how Mike composed the show's awesome theme song, the Final Fantasy franchise, the Compilation of Final Fantasy VII, and more!
Other games discussed in this episode include: Brothers: A Tale of Two Sons, Chrono Trigger, Super Metroid, Tears of the Kingdom, Myst, The Journeymen Project, Mass Effect, Stardew Valley, Octopath Traveler, Persona 5, Pokémon, Red Dead Redemption 2.    
Select and Start is a video game podcast where the host, Keifer Lirette, talks with his guests about their most meaningful and memorable video game experiences. It is part of the Moonshot podcast network.
Meet Mike Pettry - 0:00 Our love of Final Fantasy - 14:30 Music talk - 23:33 Introducing Final Fantasy VII - 40:00 No Country for Old Games - 1:09:15 Final Fantasy VII Discussion - 1:16:00 Closing Thoughts - 2:22:05 The music of FFVII - 2:27:45 Listener comments and outro - 2:35:15
Theme music provided by our guest, Mike Pettry: https://linktr.ee/mikepettry
Follow Keifer and support the show: https://www.patreon.com/KeifersCorner https://linktr.ee/KeiferL
Artwork provided by Avry Ott: https://linktr.ee/HotSodaDesigns
Find out more at https://select-and-start.pinecast.co
Send us your feedback online: https://pinecast.com/feedback/select-and-start/a0fae8c6-df1c-4a21-b8cc-b95cdecd9ddc
This podcast is powered by Pinecast.