Marvel's Spider-Man with Avry Robin Ott
24 days ago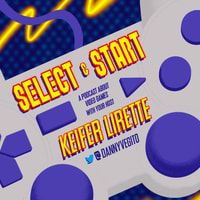 With great podcasts there must also come great responsibility. With okay ones you can get a little silly with it though. Avry Robin Ott, Keifer's best friend and the person who provides this show's artwork, returns to the show to talk about what Spider-Man, the character and the 2018 video game, means to him!
We also talk about our favorite superheroes, superheroes in interactive media, the legacy of Spider-Man, the ideology behind the character and his creators, and more! We also come up with ideas for more superhero video games in a brand new segment: I Need A Hero.
Other games discussed in this episode include: Breath of the Wild, Tears of the Kingdom, Kirby and the Forgotten Land, Pokémon Legends Arceus, Hades, Marvel Snap, the Batman Arkham series, and a bunch of Spider-Man games.
Select and Start is a video game podcast where the host, Keifer Lirette, talks with his guests about their most meaningful and memorable video game experiences. It is part of the Moonshot podcast network.
Catching up with Avry - 0:00 Favorite Superhero Games - 21:25 Our History with Spider-Man - 34:10 Spider-Man Video Games - 52:30 I Need A Hero - 1:11:45 Introducing Marvel's Spider-Man - 1:18:45 No Country for Old Games - 1:30:00 Marvel's Spider-Man Discussion - 1:42:22 Recommendations and Outro - 2:53:59
Follow Keifer and support the show: https://www.patreon.com/KeifersCorner https://linktr.ee/KeiferL
Artwork provided by our guest, Avry Ott: https://linktr.ee/HotSodaDesigns
Theme Music Provided by Mike Pettry: https://linktr.ee/mikepettry
Find out more at https://select-and-start.pinecast.co
Send us your feedback online: https://pinecast.com/feedback/select-and-start/8e72ed70-7859-4563-af06-354b196f7305
This podcast is powered by Pinecast.