Spiritfarer with Eric from Soundtracker
4 months ago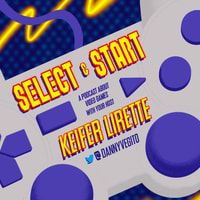 Ahoy! Eric Peacock, host of the motion-picture soundtrack podcast Soundtracker, returns to the show to talk about the cozy management game about dying: Spiritfarer! We also talk about death, video game preservation, remakes, music covers, the new John Carpenter game, and indie games!  
Other games discussed in this episode: Resident Evil 4 Remake, Tony Hawk Pro Skater 1+2, The Warriors, Dead Cells, the Hitman series, Dodgeball Academia, Hades, Disco Elysium, The Legend of Zelda: Phantom Hourglass and Spirit Tracks, Night in the Woods, What Remains of Edith Finch, Life is Strange, and more! 
Select and Start is a video game podcast where the host, Keifer Lirette, talks with his guests about their most meaningful and memorable video game experiences.
Follow Eric and listen to the Soundtracker podcast: https://twitter.com/UweBollocks https://www.buzzsprout.com/1840875 https://www.patreon.com/soundtracker/
Follow Keifer and support the show: https://linktr.ee/KeiferL https://www.patreon.com/KeifersCorner
Artwork provided by Avry Ott: https://linktr.ee/HotSodaDesigns
Sources for the intro: https://zenodo.org/record/7996492 http://gamehistory.org/87percent/ https://arstechnica.com/gaming/2023/03/why-game-archivists-are-dreading-this-months-3ds-wii-u-eshop-shutdown/ Interview source: https://www.gamespot.com/articles/spiritfarer-creative-director-when-creating-art-you-have-to-be-vulnerable/1100-6494493/
Find out more at https://select-and-start.pinecast.co
Send us your feedback online: https://pinecast.com/feedback/select-and-start/7fe19b52-bf47-44df-899c-151fe1d9cf60
This podcast is powered by Pinecast.