The Last of Us with Stephanie Paxson
8 months ago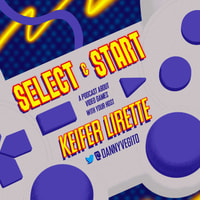 Stephanie Paxson (@spaxcadet on twitter, spaxson on Instagram and TikTok) stops by to talk about Naughty Dog's post-apocalyptic The Last of Us and why it means so much to her! We also discuss how the HBO series fares as an adaptation.
We also discuss apocalyptic fiction, the Fallout series, getting into video games as an adult, video game adaptations, and more!
Other games discussed in this episode include: Fallout 3, Fallout 4, LA Noire, Resident Evil 4, Road 96, The Stanley Parable, Uncharted, What Remains of Edith Finch, and more!
Select and Start is a video game podcast where the host, Keifer Lirette, talks with his guests about their most meaningful and memorable video game experiences.
Follow Stephanie and support her projects: https://www.instagram.com/spaxson/?hl=en https://twitter.com/spaxcadet https://www.tiktok.com/@spaxson
Follow Keifer and support the show: https://www.patreon.com/KeifersCorner https://linktr.ee/KeiferL
Artwork provided by Avry Ott: https://linktr.ee/HotSodaDesigns
Send us your feedback online: https://pinecast.com/feedback/select-and-start/4c05a63d-54c6-4d19-ab2f-2526292db7d9
This podcast is powered by Pinecast.