Sonic Adventure 2 with Riley Hopkins
5 months ago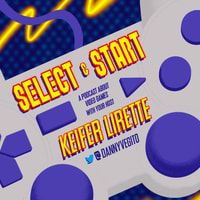 Happy Pride, gamers! Riley Hopkins from the Moonshot Network joins me to talk about the one-of-a-kind Sonic Adventure 2 and why it's their favorite game of all time! We also talk about Sonic as a franchise, quiz Riley on their Sonic knowledge, reminisce on the GameCube, and more!
Other topics covered in this episode include: The SEGA Dreamcast, The Sonic movie, Hi-Fi Rush, The Fast and Furious franchise, and more!
Select and Start is a video game podcast where the host, Keifer Lirette, talks with his guests about their most meaningful and memorable video game experiences.
Support Riley and their projects: https://www.linksmithgames.com/ https://revryebread.carrd.co/
Follow Keifer and support the show: https://linktr.ee/KeiferL https://www.patreon.com/KeifersCorner
Artwork provided by Avry Ott: https://linktr.ee/HotSodaDesigns
Find out more at https://select-and-start.pinecast.co
Send us your feedback online: https://pinecast.com/feedback/select-and-start/46a18620-7a07-4611-9250-a99cd5a5e5d8
This podcast is powered by Pinecast.