Phoenix Wright: Ace Attorney with Kev Koeser from Talking Trek to You
2 months ago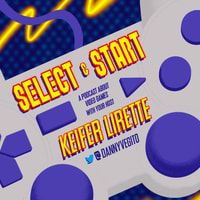 HOLD IT! Kev Koeser, co-host of Talking Trek To You, stops by to talk about Phoenix Wright: Ace Attorney and why the series means so much to them.
We also talk about the uniquely great Nintendo DS library, the visual novel genre, adventure games, and more!
Also Keifer nearly drives himself insane with his longest intro yet.
We also talk about AI: The Somnium Files, Ghost Trick, Hotel Dusk, Oxenfree, Kentucky Route Zero, Metroid Prime, Tales from the Borderlands, Tears of the Kingdom, Xenoblade, Zelda Wind Waker, Zero Escape, and more!
Select and Start is a video game podcast where the host, Keifer Lirette, talks with his guests about their most meaningful and memorable video game experiences. It is part of the Moonshot podcast network.
Intro - 0:00 Meet Kev Koeser - 11:54 Introducing Phoenix Wright - 49:27 No Country For Old Games - 1:03:41 Phoenix Wright Discussion - 1:16:20 Recommendations and Outro - 2:16:05
Support Kev and their projects: https://twitter.com/MaxRebosRoadie https://twitter.com/TalkTrekToYou https://bsky.app/profile/maxrebosroadie.bsky.social https://talkingtrektoyou.podbean.com/
Follow Keifer and support the show: https://www.patreon.com/KeifersCorner https://linktr.ee/KeiferL
Artwork provided by Avry Ott: https://linktr.ee/HotSodaDesigns
Theme Music Provided by Mike Pettry: https://linktr.ee/mikepettry
Find out more at https://select-and-start.pinecast.co
Send us your feedback online: https://pinecast.com/feedback/select-and-start/3198b7a7-1c61-4629-9696-8c2357e3eb39
This podcast is powered by Pinecast.