Phantasmagoria with Lauren Badillo Milici
1 month ago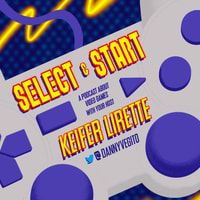 CONTENT WARNING: Phantasmagoria contains a scene depicting sexual assault. This aspect of the game, as well as the controversy it caused around the time of its release, is discussed in this episode. It is discussed during the No Country For Old Games segment starting at the 57 minute and 45 second mark and is brought up again periodically throughout the episode. Please listen at your own discretion. Episode Description:
Lauren Badillo Milici, writer, poet, and author of Sad Sexy Catholic, stops by to talk about why the uniquely bizarre Sierra point-and-click horror FMV game Phantasmagoria means so much to her!
We also talk about Lauren's horror obsession (games, films, and television), PC games, point-and-click games, FMVs, and get sidetracked a lot!  
Other games discussed in this episode: Faith, Wishbone and the Amazing Odyssey, Alice is Dead, America McGee's Alice, Alice: Madness Returns, Vampire: The Masquerade, Her Story, Immortality, Inscryption, The SpongeBob SquarePants Movie game, Starsky and Hutch, SOMA, Control, Phantasmagoria 2, and more! 
Select and Start is a video game podcast where the host, Keifer Lirette, talks with his guests about their most meaningful and memorable video game experiences. It is part of the Moonshot podcast network.
0:00 - Introducing Lauren 38:00 - Introducing Phantasmagoria 52:15 - No Country for Old Games 1:13:00 - Phantasmagoria Discussion 1:58:45 - Phantasmagoria 2 2:04:00 - Phantasmagoria's Ending 2:10:30 - Recommendations and Outro
Support Lauren and her projects: https://www.laurenmilici.com/ http://patreon.com/motelsiren [
](http://patreon.com/motelsiren)https://www.fandom.com/articles/history-phantasmagoria Follow Keifer and support the show: https://www.patreon.com/KeifersCorner https://linktr.ee/KeiferL
Artwork provided by Avry Ott: https://linktr.ee/HotSodaDesigns
Theme Music Provided by Mike Pettry: https://linktr.ee/mikepettry
Find out more at https://select-and-start.pinecast.co
Send us your feedback online: https://pinecast.com/feedback/select-and-start/1a1b1b8b-8797-471e-afe4-3f266d1ce590
This podcast is powered by Pinecast.