The Legend of Zelda: Majora's Mask with Jamiesen Borak
3 months ago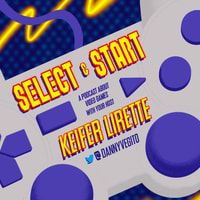 Kooloo-Limpah! Writer Jameisen Borak comes on to talk about his and Keifer's favorite video game of all time: The Legend of Zelda Majora's Mask. Jamiesen talks about why the game means so much to him, and how it affected his life and influenced him as a writer.
Also, The show gets a new theme song and Keifer gets stuck in a time loop.
We also talk about the ongoing WGA and SAG-AFTRA strike, loneliness, how we find peace and happiness in the face of dread, and video games!
Other topics covered in this episode include: Super Mario RPG, Kingdom Hearts, The Final Fantasy franchise, Twin Peaks, Tears of the Kingdom, the Zelda franchise, time loop games, and more!
Select and Start is a video game podcast where the host, Keifer Lirette, talks with his guests about their most meaningful and memorable video game experiences.
Follow Jamiesen: https://twitter.com/jamiesenborak
Follow Keifer and support the show: https://linktr.ee/KeiferL https://www.patreon.com/KeifersCorner
Artwork provided by Avry Ott: https://linktr.ee/HotSodaDesigns
Find out more at https://select-and-start.pinecast.co
Send us your feedback online: https://pinecast.com/feedback/select-and-start/162c5450-bfa1-4ef8-8c08-5cabd2c5f267
This podcast is powered by Pinecast.