Metroid Prime with Marc Normandin
9 months ago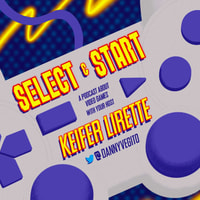 DATA RECEIVED! Marc Normandin stops by to talk about the legendary Metroid Prime, and why it means so much to him. We also discuss the Metroid series holistically, his Substack series Retro XP, and determine what the best Nintendo console is. Other topics covered in this episode include: The Alien franchise, Gears of War 2, the Fire Emblem series, Metroid Prime 4, Metroid Prime Remastered, and more! Select and Start is a video game podcast where the host, Keifer Lirette, talks with his guests about their most meaningful and memorable video game experiences.
Follow Marc and support his projects: https://linktr.ee/marcnormandin 
Follow Keifer and support the show: https://www.patreon.com/KeifersCorner https://linktr.ee/KeiferL
Artwork provided by Avry Ott: https://linktr.ee/HotSodaDesigns
Send us your feedback online: https://pinecast.com/feedback/select-and-start/0c3fc8b8-1175-412e-b16d-d874dadb6526
This podcast is powered by Pinecast.